Latiosmaster47



Join Date

May 17th, 2007

Rank 1

Member

Rank 2

Unl. Member

Rank 3

Champion

Rank 4

Veteran

Rank 5

V.I.P.

Rank 6

Moderator
User History
Edit
Latiosmaster47 (Latios) joined on May 17th in 2007 and he started posted mostly in the Pokemon Diamond message boards.  This is where he met Hypergamer and subsequently saw him get banned for accusing the moderator forty-two of eating puppies.  The Diamond Boards were both one of the most popular CHU forums and a haven for immature members resulting in bans happened very often.  Wanting to protect his precious account, Latios adapted a very reserved demeanor, and is now generally liked because of it: "Perfect score, perfect member. Though you are a bit too nice to everyone for my tastes but, that is obviously an issue regarding me rather than you"  -Dancer, in one of his "rate the member" blogs
Latios is a major fan of CHU contests, especially the CHU Lottery and the CHU User League, both of which he's won at least once. In Fall 2008, Latios won the User of the Year Award in the second annual Usie awards. On August 17th, 2009 Latios was promoted to the stature of Moderator status by a unanimous vote on the CHU boards, the response to which was generally positive.

Latios Comics
Edit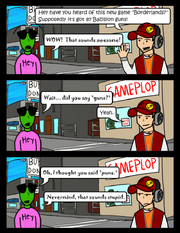 In the Fall of 2008 Latios decided to add comics to his blog.  Latios Comics star Latios (Latiosmaster47) and Hyper (Paradox9999).  Comics are usually about current CHU events or video game related stuff.  They've typically been one-shot in design, but Latios has recently begun to experiment with story arcs with moderate success.  Comics sometimes come in black and white but the more recent come in a color format.  Latios Comics have spawned some spin-offs as well as occasional fan art and cameos from forum regulars and "make your own comics" are also common.
Main Characters:
Latios, Hyper
Secondary Characters:
Darkish, Nic
Cameos:
Pwizard, Nevermore, Insomniac, EternalSlayer, Neo7 (L), sophie_angel (toreador), ghost42, potato_chips, Dancer, Dhampy, Chingy, FFQueen92, jane29, raha, yosup, forty-two, airhead, Elite, Fred the Ghost.